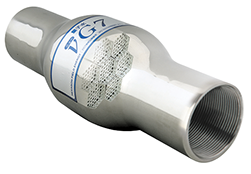 In this page, we have the honor to introduce the case
based on an individual interview with the user.
Introducing
the cases of the
NeuG7
users.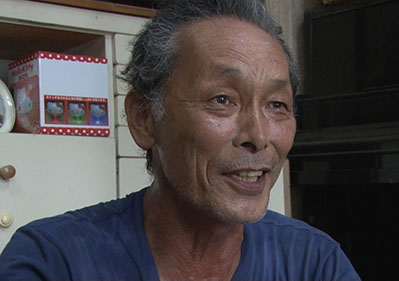 Nenmi Vegetables Farm (eggplant) Owner
Mr. Toshimi Harada
Agriculture -greenhouse cultivation
Miyazaki City, Miyazaki Prefecture
(past worries) Management success of a farmer is subject to the rate of profit margin.
(at present) improvements on taste and yield. increasing revenue realized by organic cultivation of eggplants resisting low temperatures now and having less disorder caused by continuous cropping.
▼As for the amazing effects at Nenmi Farm, please check in the video. ▼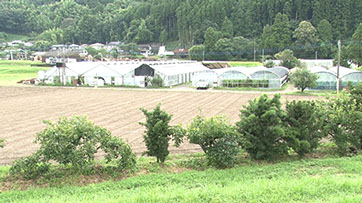 "I thought that water did not necessarily vary" with stainless-steel nuts.
Miyazaki City, Miyazaki Prefecture is the famous agricultural area in the warmer climate. In the suburbs out of the center of the city, there is a great open plateau and the landscape is entirely different. In Miyazaki City with a lot of natural area, Mr. Harada is cultivating eggplants in the greenhouse. He had been originally cultivating flowers such as lilies, but he had converted to the current business due to heavy work and the lower profit rate.
Nature can offer great opposition in agriculture pursuit and it is said in the world of agriculture business that proper management needs to use "pesticide" and "chemical fertilizers" are used to reach proper profit margins. In the present state, however, Mr. Harada has introduced NeuG7 into his farm with the introduction from an acquaintance of his. Right after the installation of NeuG7, he thought that water could never change with such a product. He said he had doubted if NeuG7 would work. However, various positive effects came out while using NeuG7.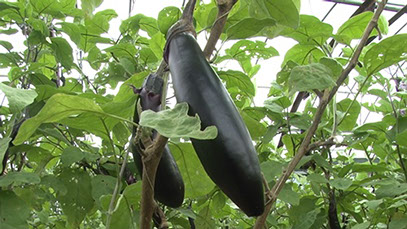 I overcame the difficulties of eggplant cultivation.
Eggplant is said to be a difficult plant for continuous cropping among all kinds of plants. It is difficult to continue to grow high-quality eggplants. However, we were told by Mr. Harada that the eggplants at Nenmi Farm were grown by "organic cultivation" and that "continuous cropping" is possible at his farm. After he introduced the NeuG7 into his farm for sprinkling, he had full realization that the effects on "taste enrichment", "yield improvement", "resistance to low temperature", "no disorder caused by continuous cropping", "faster growth" and "cultivation is now possible all the year around". Therefore, he felt the prospects for future profits are very good using the NeuG7.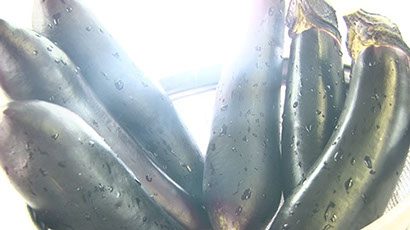 Installation of the NeuG7 also at his home.
Mr. Harada witnessed the positive effects and he installed the "NeuG7 Terahertz" at his home. He saw the healthy-looking eggplants and he instinctively thought that NeuG7 was certainly good for human beings, too. He stated his impressions, saying "I have only recently started using NeuG7, but I think NeuG7 is a good product also at my home".
We sincerely see the agriculture management becoming easier and Nenmi Farm showing more prosperity from the eggplant business. We hope to see Mr. Harada's delicious eggplants being supplied more and more all over Japan !
The eggplants grown at Nenmi Farm "do not rot !"
"Organic cultivation" is being executed at the farm, without using agrichemicals such as antiseptics, of course.
Essentially, the correct look of "spent" eggplants are described by an expression of "wither". It is so natural for all the plant to "wither" rather than "rot". The eggplants grown and harvested at Nenmi Farm never "rot" since the implementation of the NeuG7 water to inhibit bacteria from breeding.
2015 Copyrights C Wellness co,.ltd.